BALBOA IT! – Two Part Balboa Series – Coming Soon!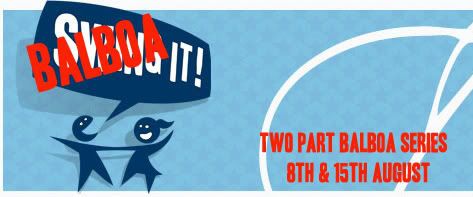 Swing It! is proud to present a two part Balboa series taught by Trevor Hutchison and Deb Palacios! Trev and Deb will be taking you through the fundamentals and basics of Balboa and introducing you to the classic style of the dance. Trevor, an established Swing It! teacher, has been enjoying Balboa for many years now and brings his usual gift for musicality and style to the dance. Deb Palacios, our guest for this series, is easily the most experienced Balboa dancer in Western Australia having danced Bal since 1999! That's longer than I've been doing Lindy Hop! Deb has learned from all of the greats and we're very excited at the opportunity to have her share her wealth of experience.
WHERE: Swing It! Victoria Park, Carlisle/Lathlain Bowling Club Cnr Roberts Road & Bishopsgate Street, Carlisle.
WHEN: 9.00pm – 10.00pm, Wednesday 8th and 15th August
COST: $12, regular class prices!
Relaxed seating and Bar available!