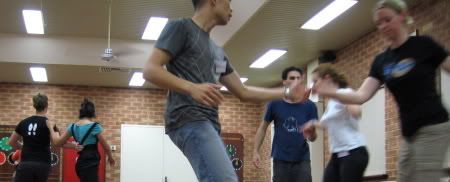 Yes this review is a tad late, some would say a "week" late whereas I'm partial to the word "tad"; easier to spell but scores lower in Scrabble.
Deadlines and giant robots (I kid you not) kept me from my review duties but they didn't stop the merriment and mirth that was had at Manning classes! Not only did we teach neato classes filled with neato moves but we also instructed Kevin on the finer arts of remembering "how to be a man again". That's right…Lindy Hop, it's not just about the dancing!
Stay tuned for the next Manning review…which will be in a day or so, or, if you prefer, a tad.
–Shane