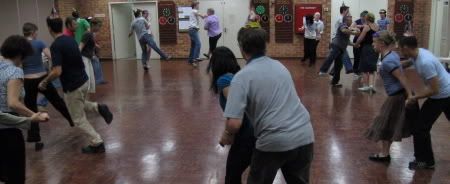 I can't really say that I remember my own, personal 1st birthday. I have it on good authority that I was there (although you never know to be honest), I can imagine there would have been food of some kind, maybe some drinks, I'm hoping, at some point, some form of brightly coloured decorations with the possibility of cake and, doubtlessly, an abundance of other extremely young, immobile humans sharing my day who, most assuredly, I wouldn't have had the slightest clue even existed. Thusly it's with GREAT confidence and utter assurance that I can proudly say that last night's Swing It! 1st Birthday Classes were a vast improvement on my previous experience with 1st birthdays!
We had PACKED classes for all three levels with drop in visitors galore and so much food we all walked out considerably heavier than we walked in. We had helium filled balloons, stacks of lollies, a Jelly Bean tree, a sensational cake made by the lovely Isabelle and some surprise cookies supplied by Amanda!
Congratulations to Michael and Amanda for taking home the door prize packs. From Lindy 2 a round of applause to Gold Medal winner Than, Silver Medal winner Tiffany and Bronze Medal winner Nienke! From Lindy 3 congratulations to Gold Medal winner Peter, Silver Medal winner Jeff and Bronze Medal winner Eva!
Lastly a VERY big thank you to everyone that came down last night and to all the people that have supported us and continue to support us as we carry on into the next year!!!
–Shane