Class Reviews: Mt Lawley!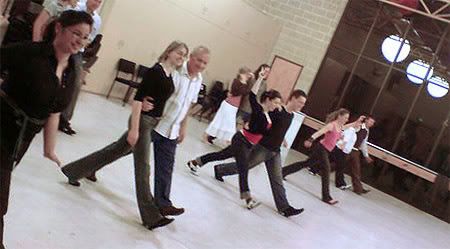 Another night, another frightening ATTACK OF THE KILLER CHARLESTON!!
As Lindy hoppers fought for their lives, the air filled with screams of.€œBATS! two three four€,.€œSeahorse!€ and ninja-esque.€œhiiiiYA!€s. Using every ounce of strength, and by Charleston-ing at speeds up to 258bpm, the valiant Lindy 2s well and truly escaped from the cold claws of the Killer Charleston with a whole host of new moves to pull out on the dance floor.
It was also graduation day for our Lindy 1s and what a fun class it was! Well done, everyone, we look forward to seeing you all again soon. Special shout out to Emily and Jerrem, who we€™ve consistently observed practicing before class! Yay!
Other kudos go to: Ralph, Susan and Carol for moving up to Lindy 2 (Carol has awesome spins) and Ryan, Kirstie, Bindi and Nathan who came out and danced with us at the Jazz Club and looked great! (Yes, I was spying on you.)
– Lexi