Class Reviews: Victoria Park!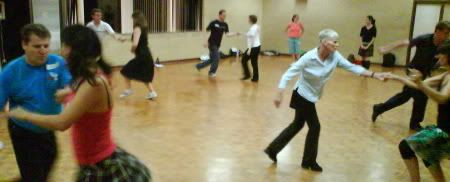 Week 1 of our new Lindy 1 for Vic Park and again I ask myself…where are all the men?? It's certainly a question I never considered I'd ask myself, not in my wildest dreams, yet here I was pondering the lack of fellas in the world. Nevertheless we still had a great time introducing Lindy Hop to a whole new set of people (mostly women…did I mention that?).
Lindy 2 on the other hand was an absolute riot. Equal numbers (shock horror), and some sensational Swing Outs going on! Fellas, let me take a moment to tell you how brilliant you looked by the end of the night…Swing Out heaven! And ladies? I will personally thank Ruth every time I see you doing the variation she taught, absolutely superb.
Special mention goes out to Jarrad and Michael. Why? They know why. Outnumbered, no quarter sparred and STILL they kept going! Oh and I officially hate rock concerts that are held on Wednesdays.
–Shane