Class Reviews: Victoria Park!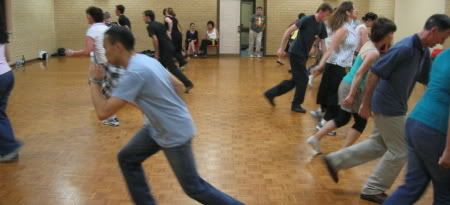 Charge of the Hoppers! Yes Wednesday evening was all about the fine arts of running about! Poison Ball? No. British Bulldog? No. Travelling Back Charleston! It's not everyone's great style I'm most impressed with; it's not the solid energy or dynamic look…it's the fact we got through an entire night doing this move with no head on collisions! And if anyone's curious? Yes, it was Team Waller that beat out Team Amazing for the Travelling Charleston cup.
A big mention also to the brilliant Lindy 3 class! Ruth and I had a brilliant time watching everyone lapping up those moves. Awesome. Also a warm welcome to Cat, our newest student who's actually visiting from Dallas, Texas! Make sure you ask her for a dance!
–Shane