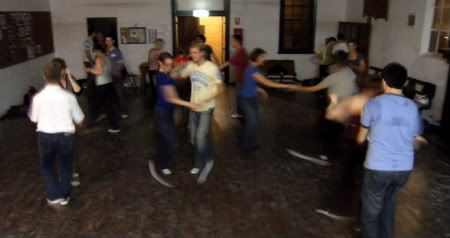 We had a stomping Monday night, with an appetiser of classic Savoy moves, a hearty main course of the high-energy (up to 300bpm!) Stops routine, and topped off with some sweet social dancing.
It was fantastic to see so many of you come down for Lindy 3 this week. We hope to see you pulling out the Stops sequence in a jam sometime soon!
Stops routine
A few have asked for the breakdown of what we taught. It went something like this:
Swingout from closed
Swingout
Lindy Circle (separate at the end)
Charleston with double kick
Charleston with break on 4 – double kick resumes on 7
Charleston with double kick
The Run Up: Rock-step Kick-step Kick- Step Rock-step Break (facing partner)
Kick-Step Step Step Break (face away) feet slide together
Rock-step Kick-step Kick- Step Rock-step Break (still facing away)
Kick-Step Step Step (running and turning back to partner) Break (double hand hold)
Break to the left, Kick- and kick step (down on 8)
Kick through on 3, spin away from partner
Itch!!
And just for interest, here's a few Youtube clips featuring variations of the Stops routine!:
A Stops routine variation performed by Al Minns and Leon James as the Precision Charleston
(If you like this clip, look for more Charleston goodness coming soon to Lindy 3!):

Lindy Hoppers dancing to Cootie Williams' Orchestra. Stops is right at the end (3.16):

Stops performed by the Mama Lou Parks Dancers:

Don't miss next week when our Lindy 1 class graduates, and we have a special guest DJ, Ellen, at the Stomp. We're looking forward to it!