Balboa classes on this week!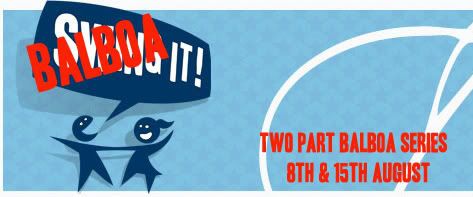 Balboa is a swing dance different to Lindy Hop that's great for dancing to fast numbers and in confined spaces. This Wednesday Swing It! presents part one of a two part Balboa series taught by Trevor Hutchison and Deb Palacios! Trev and Deb will be taking you through the fundamentals and basics of Balboa and introducing you to the classic style of the dance. If you've never learned Balboa or need a refresher – this is the class for you!
WHERE: Swing It! Victoria Park, Carlisle/Lathlain Bowling Club Cnr Roberts Road & Bishopsgate Street, Carlisle.
WHEN: 9.00pm – 10.00pm, Wednesday 8th and 15th August
COST: $12, regular class prices!
BRING: Shoes that can slide easily. Girls are welcome to wear heels! Heels may be difficult at first but they will improve your technique!
WHAT IS BALBOA?