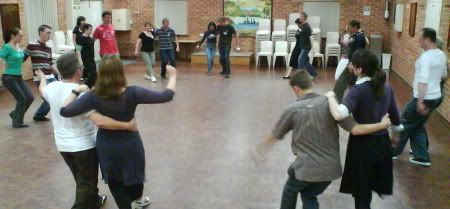 It was the final round of our ATTACK OF THE KILLER CHARLESTON series and clearly everyone went out with a fight! Blood, sweat and tears? Maybe. Either way it was a riot with constant updates by Jeff and an amazing effort by Courtney who not only enjoyed her first Lindy 2 ever but had only just learned Charlestons 5 minutes earlier!!
We ended the night with an outstanding Lindy 3. Everyone moved ahead in leaps and bounds and the difference after an hour was incredible (Ben you're awesome). Can everyone say, "Stretchy"?
A very big welcome goes out to Kevin who enjoyed his first Lindy 3 and a great big welcome back to Adrian, Tina and Katelyn!
–Shane