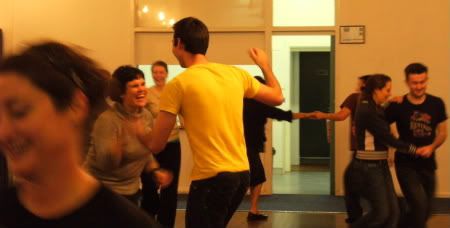 Welcome to Swing It, Lindy 1! Consider your basics styled, Lindy 2! The tall buildings that are the sweet moves we love so much are being leapt over in single bounds (because you're superheroes… that's what you are!) And you look so good doing it. But seriously, you do. A new beginning for both levels last night means a bunch of fresh faces and some good old-fashioned enthusiasm. Props to the brave souls that moved up to Lindy 2 last night, we hope you loved it.
Don't forget to represent Team Mt Lawley at the Trischool Carnival! In the spirit of garnering some, uh, spirit, I'll leave you with the terrible cheer that green faction used to yell in primary school. (That was my faction, let me know if you've got anything better than this!)
Green, green, the washing machine! Washes your clothes and makes them clean!