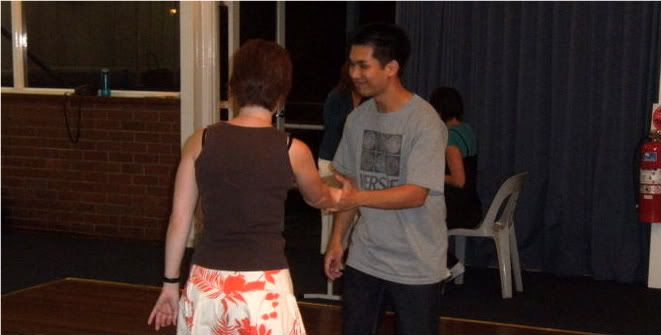 This week we told our Lindy 1 class they were our "best class ever".  I promise we don't throw that term around lightly.  Here's why they win the title: best swing outs from closed EVER!
In Lindy 2, we got pretty with some Butterflies.  I'd like to use another adjective, but Butterflies can really only be described one way.  Pretty, i.e. they were ace-lookin'!  Then the ladies got a bit of elbow room, we used some elbow grease… okay, we learned how to lead from the elbow.
Lots of stupid metaphors always adds up to a great class. Well done to everyone for working super hard and nailing some pretty tricky moves (and fast spins for the ladies)!
Our song of the week was Count Basie's "Splanky".  We aren't copying Subiaco, great minds just think alike.  Holla back if you hear me!
– Lexi
(See above a picture of John and Narelle.  John looks especially happy because he's a new Lindy 2 and he's loving it.  This could be you!)